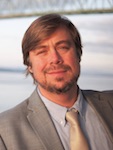 Managing Director Gregory Travis'
experience in the health care and related fields began in 1992 as CTO of Data Parallel Systems -- a KPCB backed data analytics company. In 2002 Mr. Travis, a privacy and cybersecurity expert, led developers designing detection and deterrence systems for the National Security Agency. In 2005, he founded SGC Technologies to successfully create and market technology for the secure exchange of patient medical information between enterprises.
Recently he oversaw the relationship between Cardinal Health and Persistent Systems as the two companies developed a tablet-based chronic disease management system. This work took him into every aspect of healthcare IT: from business process improvement to patient and provider user interfaces.
Greg applies his experience in big data analytics, information privacy, software development, and economics to meet the specific needs and trends of the health care industry. He writes about health care business and information technology issues at www.mdalert.com and here at Supporwell.
Mr. Travis has a BA in History from Indiana University, a passion for astrophotography, a pilot's license, and homes in Portland, Oregon and Bloomington, Indiana that he shares with his wife and three sons.